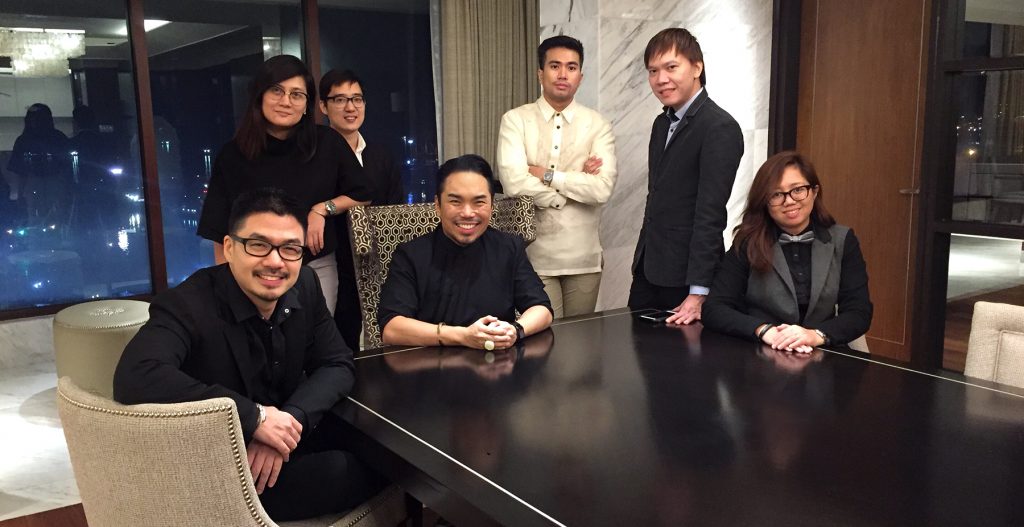 BRIAN TENORIO, Chair

CEO & Founder of KapeTayo Coffee, Tenorium Enterprise, and BT&CO (www.btand.co), also International Consultant for Branding and Design at the Asian Development Bank and the World Health Organization // Tenorio's 19 years of experience in Design, Development work, and Entrepreneurship. Tenorio's work in graphic arts includes internationally award-winning designs for Jaime Zobel and National Artist Salvador Bernal. Up until his retirement from Fashion in 2008, Tenorio Manila was one of the most publicized Filipino designer shoe brands in the country. Tenorio also produced and hosted Design Para Sa Lahat (Design For All) that aired primetime Sundays in the USA via GMA Pinoy TV. He also was the Head of Jury in the 2012 Adobo Design Awards and also one of main proponents of the Design Competitiveness Act of the Republic of the Philippines in the same year. He was also the Communications Director for Womensphere in New York. Tenorio is also the founder and CEO of KapeTayo Coffee (a coffee chain in the Philippines www.kapetayo.com). Tenorio is the first Filipino graduate of the Design Management Program of Pratt Institute in New York after completing his training at the United Nations Headquarters (New York).
Coverage: Global Development, Policy, Entrepreneurship, Design, Communications,
Country Branding

AMREI DIZON


Founder, General Manager and Creative Director of Vitalstrats Creative Solutions and Director for PR and Corporate Communications of the Philippine Marketing Association // Amrei Dizon is the Founder, General Manager and Creative Director of Vitalstrats Creative Solutions (VCS), an eleven-year old Digital Content Production Agency. She holds a Masters Degree in Entrepreneurship from the Ateneo Graduate School of Business and a Bachelors Degree in Fine Arts, Major in Visual Communication at the University of the Philippines, Diliman. In 2014, she was awarded as the Most Outstanding Member of the Philippine Marketing Association and was recognised for her contributions as creative / production partner for the Asian Marketing Congress and 35th Agora Awards. She was also an Organizing Committee member and Head of Creatives of the first two Ad Summit Pilipinas Trade Exhibits. She was the Creative Chairman of the recently concluded Asian Marketing Leadership Congress (July 2015) and is the Category Search Head for Entrepreneurship - Medium Scale in the 36th Agora Awards.
Amrei is also Vice Chairman for Production in the upcoming Araw Values Awards organized by the Advertising Foundation of the Philippines.
Coverage: Digital Content Production, Multimedia Marketing, Visual Communication, Entrepreneurship


SIMOUN FERRER


Assistant Vice President of GMA Artist Center // Ferrer manages the careers of the managed artists of the network, and also heads the marketing, branding, styling and PR of these artists. Prior to GMA, he was part of the sought after management trainee program for a multinational fast moving consumer goods company and was in charge of brand management of different skin brands. Before working, he was also active in De La Salle University - Manila, where he was the Student Council President, and was awarded Gawad Magaaral for Most Outstanding Student Leader and for also for Community Development, and was part of the Agora Youth Awardees. During his spare time, he does figure skating and also teaches a dance class in Fitness First.
Coverage: Media, Management, Communications, Marketing, Public Relations, Sales, and Project Management.


_______


CEO and Founder - Medical Technology, Agriculture, Oil and Gas Industries // The CEO of his medical technology company, a Managing Partner for an Oil and Gas start-up and heads an Agriculture Consulting Firm focused on sustainability. Brings with him 13 years of international business management experience from Fortune 50 FMCG corporations - taking on global, regional and country leadership roles. A successful start up owner –entrepreneur, he has been invited to speak in top international business schools to lecture on social entrepreneurship and business model design.
Coverage: Agriculture, Energy, and Pharma
* This Board Member occupies a Lavender Seat (for individuals who wish to be part of the organization but not have their identities publicly accessible).

ANGEL ROMERO


Partner & Director for Creative and Marketing, Kapuwa Bistro + Urban Pub;Open Session Country Champion, Digital Content Group Head, Publicis One Media ; Country Chair of Publicis Groupe's Égalité Philippines; Creative Director & Consultant ; Freelance Writer// After her Short Stint in the Academe as an Early Childhood Educator, Angel spent the next 14 years in Advertising & Communications dabbling in Creatives, Strategy, Communications Planning, Consumer Insighting, Below the Line, Out of Home and Digital for the biggest Brands in the FMCG, Pharmaceutical, Food & Beverage, Telecom and Personal & Beauty Care Industries. Angel also boasts a former title as Director of Possibilities and was nominated to be the Youngest Mancom Member at 29 years old. She was the first to embrace Digital in her Media Agency way back when pokes and virtual gifts were still big on Facebook. She championed one of the many firsts in Branded Content & Media Maximization in the country. She graduated Bachelor of Arts Major in Communication Arts and is pursuing Masteral Studies in Business Administration under the Regis University in Colorado USA and Ateneo De Manila Program. In 2015, together with LGBT loves and straight ally friends, Angel created the Philippine's First LGBT Friendly Kitchen + Pub.



JEOFF SOLAS


Public Relations Manager, Anchor Land Holdings // PR Manager of the premiere properties and hotels of Anchor Land Holdings, Inc., a brand consultant of hotels and resorts, of Metropolitan Medical Center and its College of Arts, Science and Technology. He is also a digital native who took part global and local campaigns for Avon Philippines, InterContinental Hotels Group, Inc, Best Western Plus Antel Hotel. He also handles digital campaigns for clinics of Vine Holistic and Medical Aesthetics, nationwide branches Freshaire Salon, an advocate of NGOs like The Love Yourself (HIV/AIDS Awareness and Testing), and the youngest director of Makati Tourism Foundation, Inc. He was also a lecturer of professional subjects in courses of Tourism, Hospitality and Business in Centro Escolar University and Ateneo Continuing Education for Certified Digital Marketing program of Internet and Mobile Marketing Association of the Philippines (IMMAP)




EVAN TAN


Chief Marketing Officer, Taxumo // Evan Tan is a co-founder and the chief marketing officer of Taxumo, an end-to-end online tax assistance platform for self-employed professionals and small business owners. The company has been recognized as one of the region's and the Philippines' fast-rising startups by organizations namely e27, Inc., and Ideaspace Foundation. Formerly, he was the lead for Freelancer.com's communications efforts within Southeast Asia. During the course of his work, he has been featured and interviewed in various media outlets such as Bloomberg Malaysia, Channel News Asia, The Straits Times, Manila Times, and GMA News. He was previously the Administrative Head of HIV advocacy organization The Red Whistle, and has worked with the Philippines' only gay media company TEAM (www.teammag.ph) as Advertising and Promotions Director.



JAY YAO


Artist, Graphic designer @ Betur // Yao did his thesis on Canadian-Asian identity at Hampshire College through a photography exhibition. He has also had numerous solo exhibitions at Hiraya Gallery (Manila), Silverlens (Manila), Tixe Artspace (New York), Manifesto Gallerie (Manila), and quite recently in Artinformal (Manila). He has been sponsored by the Canadian and Mexican embassy in his earlier days. In 1998, Yao did an exhibition celebrating 150 years of Mexican Influence in the Philippines. In 2005, Yao represented the Philippines for the Goethe-Insitut project "Art Connexions: SYD - MLA - KUL." His current body of work, Homecoming, was nominated and short-listed for the Ateneo Art Awards in 2014. Yao is an alumnus of Hampshire College, Parsons, and Columbia University. Yao, spends the majority of his time in Manila pursuing his passion in both branding and fine art. He is also an avid typographer.