A rundown of the programmes, projects, and events of the Philippine LGBT Chamber of Commerce this last 2018.

From our Chair and Founder:
First of all, I would like to personally thank everyone for being with us this last 2018. It was an eventful year for Philippine Business and Gender Diversity Advocacy work–with all those ups and downs (but mostly ups if you think that downs don't get the tough going). Thank you! Maraming salamat po!
2018 has been a year of collaboration for the Chamber as we worked for Equality in the workplace, in the minds of people, and in the heart of every person in our society. Beyond that, the #LGBTchamber has been fortunate to meet and work with individuals and organizations who champion True Love and Empathy here in the Philippines and beyond. (They are with us in the pictures and texts below.)
We look forward to a beautiful 2019 with all of you, especially as we expand our work and reach out from Manila and the central business sectors of the country outwards throughout the country side and (let's see and holding my breath) across the region! Mabuhay tayong lahat – all of us!
Over the rainbow,
Brian Tenorio
Chair and Founder
The Philippine LGBT Chamber of Commerce
We got really cool people to help us.
For IDAHOT 2018 (May 17, International Day Against Homophobia and Transphobia), the Chamber distributed around "Keri" pins (keri is Filipino slang for can or possible). We were so thrilled that besides the usual suspects (happily our friends and colleagues) wearing our pins, celebrities from television, the news, and social media joined in and even posted about our campaign for IDAHOT.
We participated in IDAHOT 2018.
H.E. Marion Derckx, the Kingdom of the Netherlands Ambassador to the Philippines and her team graciously supported the work and the campaigns of the Chamber this last 2018. With this support, the Chamber was able to launch two major projects: The 4ws of SOGIE and the Philippine Corporate SOGIE Diversity Index of 2018.
Watch this video here.
We talked to Leaders.
The #LGBTChamber's SOGIE Executive Session is that version of SOGIE training specially developed for leaders of organizations. Our lead for that is Simoun Ferrer, our Vice Chair for Research and Education (leftmost in the photo). This pilot batch was made possible by the support of the Embassy of the Netherlands in the Philippines. In the photo below, seated in the front (leftmost) H.E. Marion Derckx (Netherlands Ambassador) and (rightmost) H.E. Daniel Pruce (British Ambassador).
We talked to company employees and teams.
Chamber Vice Chair for Education and Research Simoun Ferrer gave rounds of talks and several engagements to corporate organizations discussing SOGIE (Sexual Orientation, Gender Identity and Expression).
We launched a milestone-study in the Philippines.
"ZERO": Filipino Companies Flunk in the Country's First-Ever SOGIE Diversity and Inclusiveness Index. Filipino companies have failed dismally in the country's first-ever Philippine Corporate SOGIE (Sexual Orientation, Gender Identity & Expression) Diversity and Inclusiveness Index, a study pioneered by the Philippine LGBT Chamber of Commerce, an organization which champions the LGBT contribution in Philippine business.
The study aims to establish a quantitative baseline SOGIE Corporate Diversity and Inclusiveness Index across the top corporations as well as other small and medium enterprises in the Philippines.
Download it here.
We discovered a very important number "0".
ZERO – No Filipino corporation that was part of the study had SOGIE-Diversity policies. The #LGBTchamber wishes to change that for 2019 with their #ZEROto100PH program — where the goal is to institute and help create SOGIE Diversity policies in at least 100 Filipino corporations by the end of 2019.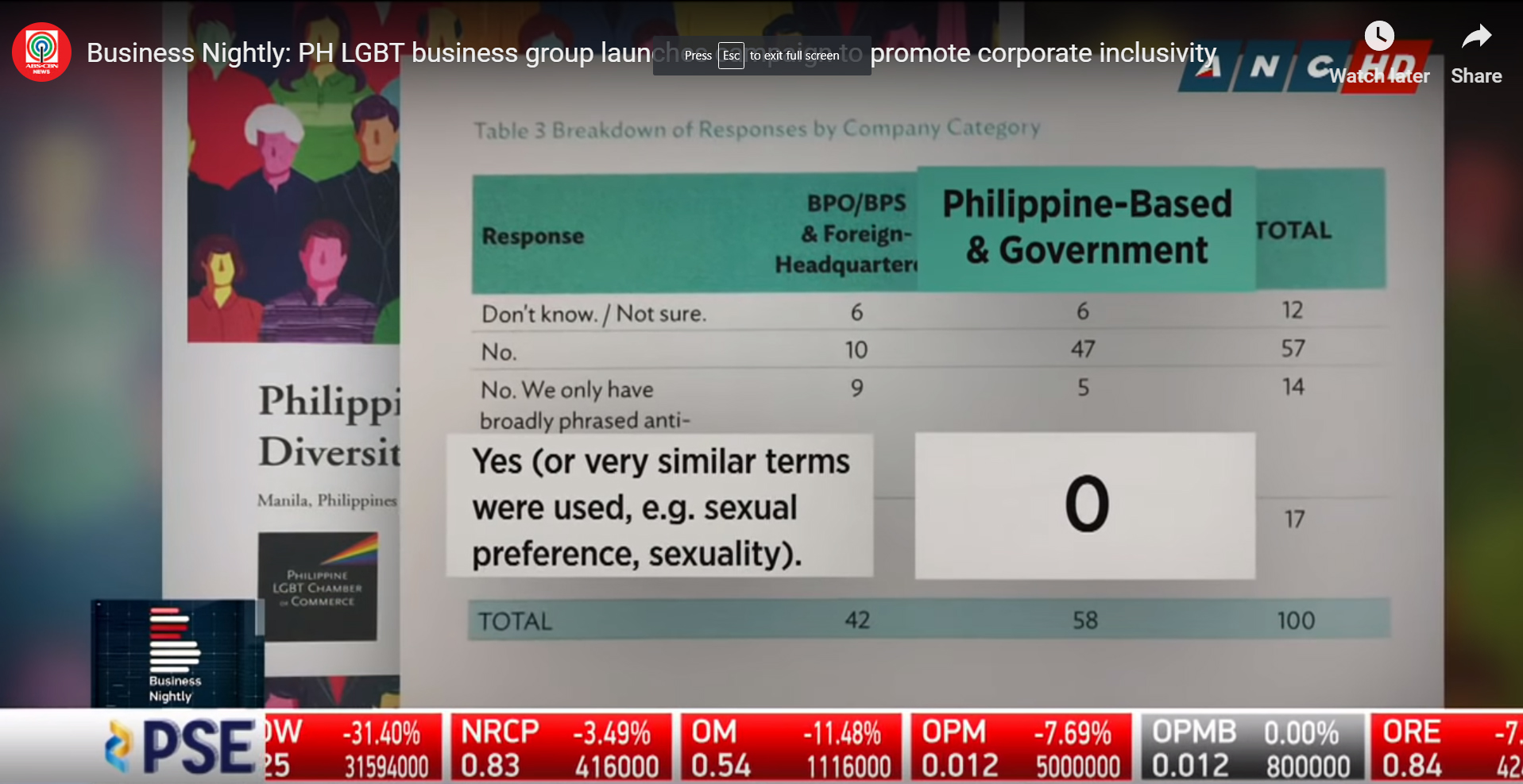 We learned from our Fs.
The Chamber hosted the F.U.Night of Impact Hub Manila in Makati City. Speaking for the Chamber is our Vice Chair Externals Angel Romero alongside LGBT speakers for the event.
We learned about Diversity with our partners throughout the region.
The Philippine LGBT Chamber of Commerce was invited to participate in Japan Foundation's EYES PROJECT for Diversity and Human Mobility 2017-2018. In this photo,fellows from India, Indonesia, Japan, Peru, the Philippines (represented by #LGBTchamber Chair Brian Tenorio), and Thailand. The meetings and sessions were held in Jakarta and in Tokyo.
We sat with industry leaders and business sector heads.
Brian Tenorio, Chair of the Philippine LGBT Chamber of Commerce with the Heads and Executive Directors of the Makati Business Club, Integrity Initiative, American Chamber, European Chamber, Chinese Chamber, Philippine Retailers Association, Phil Pharma Association discussing with Philippine Competition Commission (PCC) Chairman Dr. Arsenio M. Balisacan and Commissioners Stella Luz A. Quimbo, Atty. Johannes Benjamin R. Bernabe, Atty. Amabelle C. Asuncion. Special thanks to Atty. Kenjie Aman.
We spoke alongside other advocates of PRIDE.
Our Founding Board of Director and Vice Chair for Industry & Trade Evan Tan joins the country's biggest gathering of LGBT Leaders and Expert Allies at the 2nd Pride Summit on July 23, Monday at the Makati Shangri-La Hotel.
Mr. Tan is one of the panelists for the "ROI for LGBT+: the Business of Inclusion" Breakout Session. This year's Pride Summit brings a spotlight to workplace policies and practices that will help foster a diverse & inclusive culture in the workplace for the LGBT+ community.
The event is presented by the Philippine Financial Industry Pride and ANZCHAM- Australian-New Zealand Chamber of Commerce Phils., Inc.. #LGBTChamber
We spoke in schools.
#LGBTchamber Board Director and Vice Chair for Governance and Policy Jeoff Solas with the NSTP and Academe of Far Eastern University for their Gender and Cultural Sensitivity seminar. Here with the participants, GALANG (Philippines), and Side B Philippines
NSTP and Academe of Far Eastern University for their Gender and Cultural Sensitivity seminar. Here with the participants, GALANG (Philippines), and Side B Philippines #EqualityNow (photos from J. Solas)
We spoke to other industries.
Chamber Chair and Founder Brian Tenorio, "inspires us on Promoting Diversity & Inclusiveness in the Workplace."
From the instagram account of IIA Philippines (Institute of Internal Auditors of the Philippines, the country's internal audit profession's most widely recognised advocate, educator, and provider of standards, guidance, and certifications).
*Brian Tenorio, our LGBT Chamber Chair, was the morning keynote for the second day of the IIAP Annual Convention held last November in Bohol, Philippines.
We spoke alongside Startup Stars
The Joint Foreign Chambers of the Philippines (JFC) hosted a forum on Creative Industries entitled "Creative Industries: The Next Sunrise Industry" at the Fairmont Makati Hotel last November 27, 2018. The forum focused on various policy changes, initiatives, and recommendations to boost the country's creative economy.
From left to right: Panel Moderator Ms. Florentina P. Colayco (President, Metropolitan Museum of Manila), PANELISTS Hon. Nora K. Terrado (Undersecretary, DTI: Trade and Investments Promotion Group Group, Department of Trade and Industry; and Governor, Board of Investments), Atty. Guiller B. Asido (Administrator, Intramuros Administration), Ms. Malaya del Rosario (Head of Arts and Creative Industries, British Council), Ms. Maria Rita O. Matute (Executive Director, Design Center of the Philippines), Mr. Matthew D.M. Morrison (Founder and CEO, A SPACE), Ms. Ces Rondario (Co-founder, Impact Hub Manila), Mr. Brian Tenorio (Chair, Philippine LGBT Chamber of Commerce), Ms. Dolly Anne M. Zoluaga (Assistant Department Head and Zoning Administrator, Planning and Development Office Iloilo City)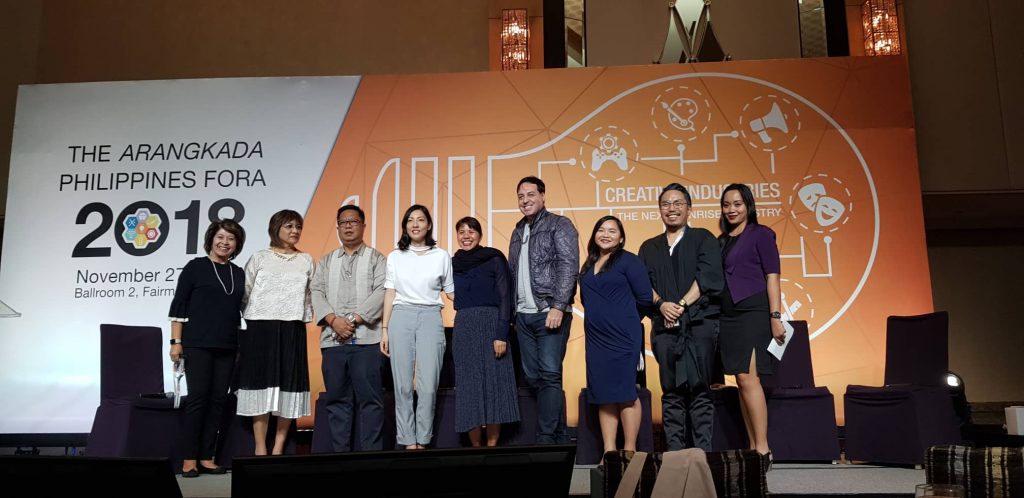 We showcased Diversity through Culture and the Arts
With Japan Foundation Manila Director Hiroaki Uesugi (middle) and his team from the Japan Foundation Manila office — here at the screening of the Hikaru Toda (center red pants)'s (center) film documentary. Leading the event for the Chamber is our Vice Chair for Policy and Governance Jeoff Solas. Co-hosting the event with the Chamber is Liza Diño, Chairperson of the FDCP here with former Youth Commission Chairman, Ice Seguerra.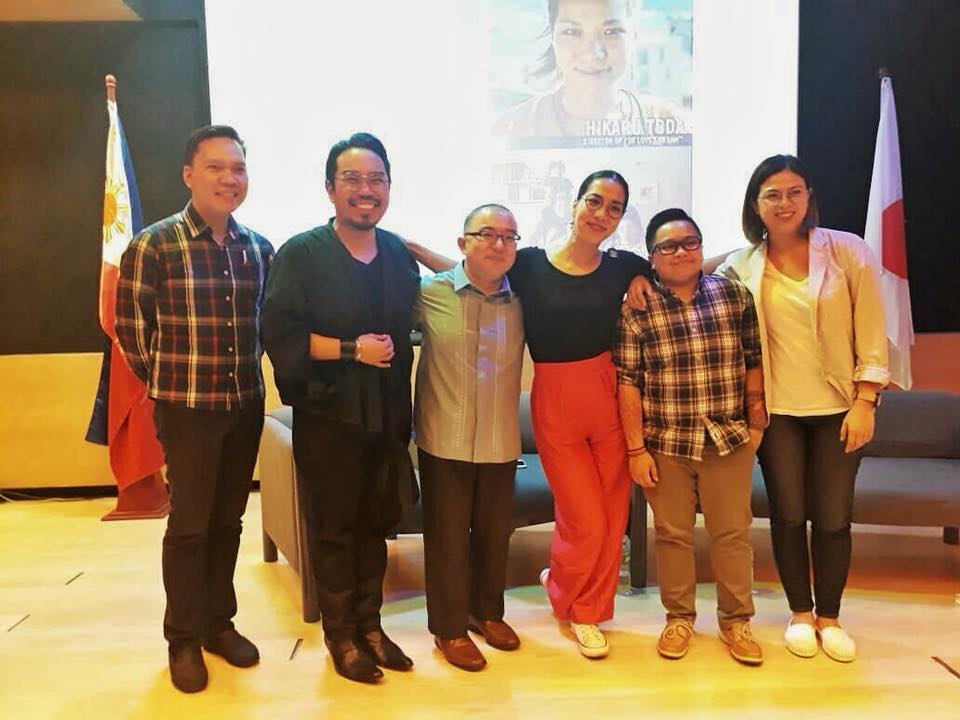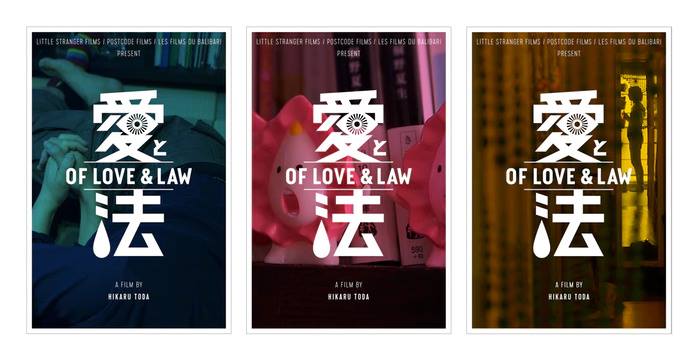 We sat with government officials and the diplomatic corps.
From a breakfast roundtable discussing LGBTI advocacy in the Philippines with US Embassy Chargé d'Affaires, Mi­chael Klecheski and his colleagues, Senator Rissa Hontiveros and her team, and friends from the ASEAN SOGIE Caucus, Philippine Finance Industry Pride, Rainbow Rights Philippines. LGBT Chamber Chair Brian Tenorio represents the Philippine LGBT Chamber of Commerce.
We supported Women and marginalized sectors.
#BILIBsaBABAE ; Women have always been the first to come as supporters and friends in any LGBT endeavor for equality in our homes and in the workplace. The Women's Rights movement has also always been our inspiration too and model for working for the same rights for ourselves. Women are as capable and effective as men in any capacity in the workplace and beyond. As Filipino LGBT, we support and believe in #WOMEN.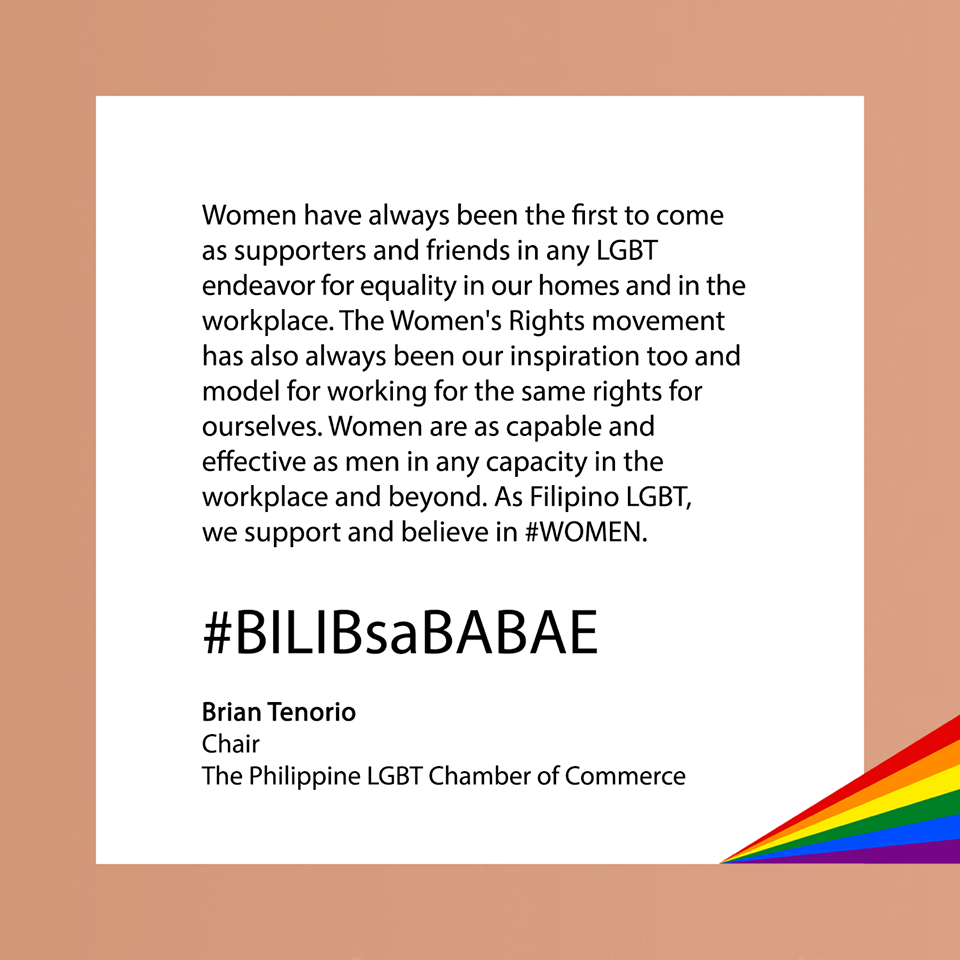 We spoke with Brands and Marketers.
Last August 9, 2018, the Philippine #LGBTchamber of Commerce Chair Brian Tenorio, Vice Chair (Internal) Amrei Dizon, Vice Chair (External) Angel Romero and Vice Chair (Industry and Business) Evan Tan gave talks at the Philippine Marketing Association event held at Hotel Sofitel. (photos from the speakers)
Philippine LGBT Chamber of Commerce Vice Chair Internals Amrei Dizon speaking now at the PANA Truth in Advertising GMM. Talking about the Pink Peso.
We showed with Startup Superstars in ASEAN
LGBT Chair Brian Tenorio moderates a panel for the 2nd ASEAN Young Entrepreneurs Carnival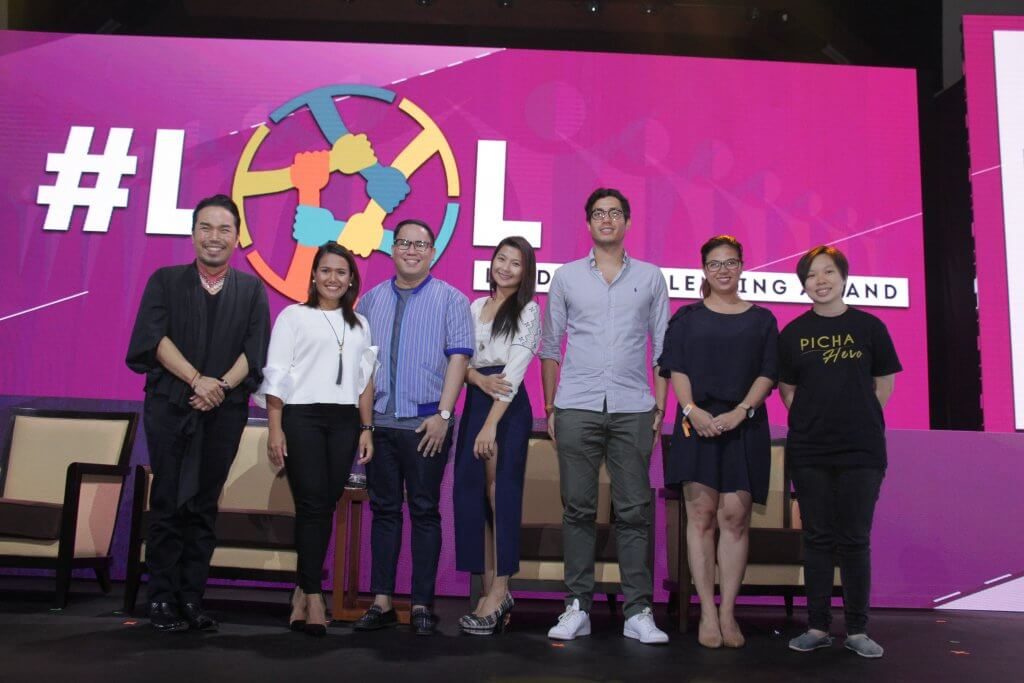 We came out on TV.
LGBT Advocate Jonjon Rufino and LGBT Chamber Chair Brian Tenorio discuss their work and POVs with ABS CBN New Network's Early Edition anchor Annalisa Burgos during the June Pride month here in the Philippines.
We came out in magazines.
Advertising industry lead magazine adobo magazine features LGBT Chair Brian Tenorio on its centerfold for its GENDER ISSUE.
"With what we have, let's all help fill other people's cups!" Brian Tenorio is seen in this issue with various cups.
We came out (again) on the net.
So what shows up when you google "gay ceo philippines"?
It means a lot to us that when one Googles "gay CEO Philippines" we actually have some real people from this country who match the query. The other entries are from other countries. Representation is key and to be able to know that LGBT people can be heads of businesses and organizations is important and valuable. We would want more LGBT to be in leadership positions in their organizations in the future.
We networked with LGBT business organizations from around the world.
Our Founding Board Director and Vice Chair for Internals, Amrei Dizon's partnership meeting with our friends from StartOut in San Francisco, California. StartOUT is one of the leading non-profit organizationd in the US which champions #LGBT entrepreneur leaders and businesses.
We can't wait to share with you the exciting things that will happen in the coming months. This is just one of the many partnerships that will provide our members access to mentorship and networking opportunities with LGBT thought leaders and business experts on a global scale!
Last July 16, 2018, our Vice Chair Internal Amrei Dizon, met with The National Gay and Lesbian Chamber of Commerce (NGLCC) in their Washington DC headquarters. We shared how we both fulfill our mission serving our LGBT business communities and explored opportunities to partner as one of their allied organizations in Asia, as well as taking part in their upcoming global conferences.
We are venturing into 2019 stronger and bigger!